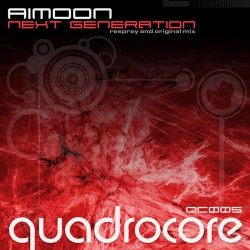 Aimoon – Ultragreen
Label: Quadrocore Recordings
Catalog#: QC005
Format: Digital (MP3, Wav)
Country: RU
Released: 08 Dec 2011
Genre: Electronic
Style: Progressive / Trance / Tech Trance
Tracklist:
1. Aimoon – Next Generation (Respray)
2. Aimoon – Next Generation (Original Mix)
Preview:
Aimoon — Next Generation (incl. Respray) by Aimoon
Description:
At the fifth release we will bring back Quadrocore co-owner and our resident Alexander Golyshev (Aimoon).
At this time Aimoon presents a respray for his past tune called «Next Generation». Original was produced in a 2010 and has been the most experimental trance track among all Aimoon productions, because tune have a whole triplets construction (Original will be at release as bonus). After start in a Respray you can hear breakdown with lush basses rising to fantastic climax and turn to main triplet part. Respray version mixed especially for djs and will be the most massive and modern than original.
We choose it for a release at Quadrocore Recordings, because triplets is modern and good point, which has been realized in a «Brute» by Armin Van Buuren and Ferry Corsten.
Radio Support:
Rank 1 – Radio Rush 021
Andy Duguid — After Dark Sessions 038
Steve Anderson – SAME Radio Show 154
DJ Andrey Balkonsky — Exclusif #117
Upfront Club Support:
Angel Ace, Diana Bauer (Elliptical Recordings), EDU, Elite Electronic, Flash Brothers, Giuseppe Ottaviani, Gosh (Kanov), Kaeno, Karybde & Scylla, LRCN, Manuel Le Saux, Mark Arbor, NanoCore / Radio Basslover, Neil Moore, Ozzy Xpm, Paul Pearson, Phillipo Blake, Robert Gitelman, Simon Bostock, Steve Anderson, Sunsvision, Suzy Solar, Tempo Giusto, Tezija & Keyra, The Flyers and Mike Sonar, tyDi, UCast, Urry Fefelove & Abramasi, Vot Radio, Wandii, DJ Andrey Balkonsky, Johan Nilson (DI.FM), N&R Project, Pragmatica Project
Upfront DJ Reactions:
Above & Beyond «downloading for above & beyond» Best Mix : Respray
Diana Bauer (Elliptical Recordings) «Nice one!!» Best Mix : Original Mix
DJ Andrey Balkonsky «I love Aimoon's music!!! Nice tracks!!! 100% support!!!» Best Mix : Original Mix
Elite Electronic «Realy great mixes out there! Will give full support!!!» Best Mix : Original Mix
Flash Brothers «Respray is good uplifting prog trancer!» Best Mix : Respray
Johan Nilson (DI.FM) «Cool tech influenced trance tracks. Enjoying both versions» Best Mix : Original Mix
Kaeno «Supporting» Best Mix : Respray
Karybde & Scylla «Ok, Nice tune ! will try» Best Mix : Original Mix
LRCN «Both are nice, full support!» Best Mix : Original Mix
M.PRAVDA «Not a big fan of triplet constaction. But really solid production though. Thank You.» Best Mix : Respray
Manuel Le Saux Best Mix : Respray
Mark Arbor «both versions rock. can't choose the best one to be honest. «Respray» though wins ;-)» Best Mix : Respray
NanoCore / Radio Basslover «Awesome Release! Download, full support for both and thank you by NanoCore / RBL» Best Mix : Respray
Ozzy Xpm «Cool Stuff!» Best Mix : Original Mix
Paul Pearson «Supporting the Original» Best Mix : Original Mix
Phillipo Blake «Aimoon — Next Generation (Respray) oh my god!!! COOL!!» Best Mix : Respray
Pragmatica Project «Loving original mix here!» Best Mix : Original Mix
Robert Gitelman «love it» Best Mix : Original Mix
Steve Anderson «Big fan of Aimoon — respray has my full support» Best Mix : Respray
Sunsvision «Nice one!» Best Mix : Respray
Suzy Solar «Great track, I really like the Respray!» Best Mix : Respray
Tempo Giusto «Will support!» Best Mix : Respray
Tezija & Keyra «loving the original mix, thanks» Best Mix : Original Mix
tyDi «will try.» Best Mix : Original Mix
Urry Fefelove & Abramasi «Aimoon for us to open the second half of this year, the guy gives great releases one after another stunning performance! I liked both versions of the
tracks, an interesting move from triplets themselves sometimes use this trick! 10/10 Cheers! Urry Fefelove & Abramasi» Best Mix : Original Mix
Vot Radio «very cool!» Best Mix : Respray
Wandii «Loving the Respray. Full support!» Best Mix : Respray
Buy Links:
Beatport
iTunes
JunoDownload