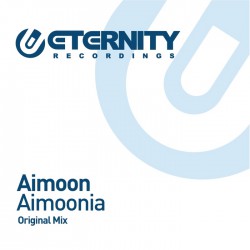 Aimoon – Aimoonia
Label: Eternity Recordings (Parent Label: Monster Tunes)
Catalog#: ETR106
Format: CD, Digital (MP3, Wav)
Country: UK
Released:
Beatport Exlusive: 09 May 2011
Worldwide: 23 May 2011
Genre: Electronic
Style: Progressive Trance
Tracklist:
1. Aimoon – Aimoonia 8:27
Preview:
Aimoon — Aimoonia by Aimoon
Description:
Russian newcomer Aimoon has arrived for his debutant release on Eternity Recordings after successfully delivering a fine remix for the recent OZA release Whiti Te R?.
With the aptly titled track «Aimoonia», this new producer has delivered a fine piece of chunky electro trance, with some great bassline sounds chopped up and nicely edited features. It then moves into a nice melodic section with a lush pad breakdown and kicks back in with the bass, just how we like it!
DJ Support:
Armin van Buuren, Above & Beyond, Alex MORPH & Woody van Eyden, Aly & Fila, Andy Moor, Ben Nicky, Colonial One, Ernesto & Bastian, Giuseppe Ottaviani, James Brooke, Jon O'Bir, M.I.K.E. (Push), Mark Sherry, Mark Eteson, Neil Moore, tyDi, Will Atkinson and many more!
Radio Support:
Andy Moor – Moor Music Episode 050
Nitrous Oxide — Afterhours.fm 5-Year Anniversary
Above & Beyond – Trance Around The World #373

Mark Eteson – Highway 084
Colonial One – The Last Colonies 008
Jon O'Bir — Ways & Means 016
Mark Sherry – Outburst Radio Show 208
Armin van Buuren – A State Of Trance Episode 508

Ernesto vs Bastian – The Next Level 227
Mark Eteson – Monster Tunes 016
Mark Eteson – Monster Tunes 015
Buy Links:
Buy @ Beatport
Buy CD