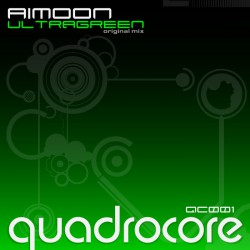 Aimoon – Ultragreen
Label: Quadrocore Recordings
Catalog#: QC001
Format: Digital (MP3, Wav)
Country: RU
Released: 13 Okt 2011
Genre: Electronic
Style: Progressive Trance / Uplifting Trance / Tech Trance
Tracklist:
1. Aimoon – Ultragreen
Preview:
Aimoon — Ultragreen by Aimoon
Description:
Quadrocore Recordings is a new trance oriented lable, which purpose is searching and releasing most interesting and innovation trance & progressive tracks, to get them into hands of top djs all over the world.
First of all we like introduce to you new single of Quadrocore co-owner and our resident Alexander Golyshev (Aimoon). He had released some great tunes, which were supported by top DJs, such as Armin Van Buuren, Above & Beyond and others, and now he presents his last work.
This time he comes with hi-charged groovy bomb called Ultragreen, where in breakdown volume comes almost silent and then rises from deep chords up to totally big climax and continues with big groove drums and modern bass. It seems that all progressive trance fans will enjoy this tune.
Radio Support:
Andy Duguid — After Dark Sessions 026
Mark Sherry — Outburst Radio Show 226
Steve Anderson – SAME Radio Show 144, Same Sessions 030
DJ Anna Lee — Club-Styles 059
Upfront Club Support:
1Touch, Aleksey Muravyev, Alex O'Rion, Andy Duguid, Angel Ace, Anna Lee, Diana Bauer (Elliptical Recordings), DJ Ampz, EDU, Elite Electronic, Ex-Driver, Fast Distance, Flash Brothers, Giuseppe Ottaviani, Ilya Soloviev, Johan Nilson, Kaeno, Karybde & Scylla, LRCN, M.PRAVDA, Manuel Le Saux, Mark Pledger, Mark Sherry, Matt Bukovski, Matt Trigle, NanoCore / Radio Basslover, Neil Moore, Ozzy Xpm, Paul Trainer, Phillipo Blake, Quadrocore, Sasha Starry, Steve Anderson, Sunsvision, Suzy Solar, Tempo Giusto, Tezija & Keyra, The Flyers and Mike Sonar, UCast, Ultimate, Urry Fefelove & Abramasi, Vot Radio
Upfront DJ Reactions:
Alex O'Rion «Hey there, loving the new Aimoon! Downing…»
Andy Duguid «Supporting in this weeks After Dark Sessions. After Dark Sessions 026 airs from 7pm(uk) on www.di.fm (club sounds) 13/09/11»
Anna Lee «SUPPORT! :)»
Diana Bauer (Elliptical Recordings) «Thanks for adding me to your promo pool! Nice work by Aimoon! Happy to support»
EDU «Good start for label. Thanks.»
Elite Electronic «Absolutely awesome production! Playing with Matt Darey next weekend. Will support this one there. And in a lot mixes more»
Ex-Driver «Supporting!»
Flash Brothers «Good uplifting progressive trance tune!»
Ilya Soloviev «Good start! Keep it coming! Thx for promo!»
Johan Nilson «Nice bounce to this one. Enjoying it»
Karybde & Scylla «Massive Tune ! Love it !»
LRCN «Solid work here, full support!»
M.PRAVDA «Great track! Will download and try.»
Mark Sherry «Really like this guys cheers!»
NanoCore / Radio Basslover «Very nice 1st powerful release! Sounds awesome :). We like it, full support & special thanks for insert us into. Regards, NanoCore / RBL»
Neil Moore «will be checking out in full»
Ozzy Xpm «Coll stuff! Thx for the promo and my best wishes for the label…»
Paul Trainer «nice track»
Suzy Solar «Cool track!»
Urry Fefelove & Abramasi «Really cool track! Loved it!) Support!»
Vot Radio «Aimoon brought one more great work! Full support!»
Buy Links:
Buy @ Beatport