Our new remix for Jordan Suckley — Jet 2 Hell (Abstract Vision & Aimoon Radio Edit) is out into Red Alert cd!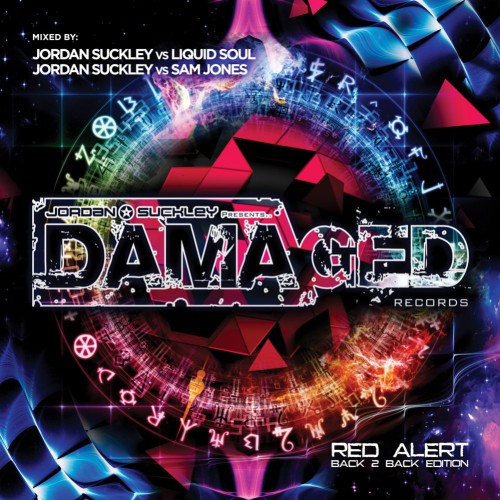 How do you 'remix' the time-established format of the music compilation? Well, if you're currently one of the hottest, most forward-thinking DJ minds out there (and your name's Jordan Suckley!), the answer is in fact beautifully straightforward… This year has already seen Jordan drop multiple crowd-thrilling productions, whip-up Beatport chart-topping remixes and ace one Damaged Records floor-whacker after another. To cross the bridge into 2016, the Liverpudlian luminary has another masterstroke up his sleeve… and its ingenious as it is original.
He's enlisted the considerable talents of a pair of fast-tracking spinners, to give the traditional mix-comp format an elegant twist. A past master of the back-2-back dynamic, for the release of Jordan Suckley Presents Damaged Records: Red Alert, he's ported that into two outstanding, experience-capturing mixes/discs. Letting that old DJ chemistry work its magic, Jordan plays track-tennis with the hotter-than-hot psy-trance spinning Liquid Soul and deck-duels with his new Damaged Recordings prodigy, Sam Jones.
In and amongst the album's tech-powered expressways and psy-highways is the latest from a full detachment of the scene's tougher minded propagators. Over the two discs, the trio hardwire mainframe material from Sneijder, Bryan Kearney, Richard Durand, John 00 Fleming, Thomas Datt, Astrix and others. There's also legion from the more neophyte talent too. Studio-ware from Alex Di Stefano, Liam Wilson, Abstract Vision & Aimoon, Harmonic Rushcomes thick and fast, as does a righteous onrush of Jordan, Sam and Liquid Soul's latest and greatest.
A stalwart of the scene for a decade and a half, the last 12 months have seen Nicola 'Liquid Soul' Capobianco seize to its centreground. The psy-evangelist's DJ sets and productions have been generated nonstop podium rush the world over. Nicola dips into his own recent discog, dropping slammers like 'I See The Spirit', 'Liquid Dream' and 'Revolution', as well as the DJ-champed 'Science Fiction' and 'Anjuna' collabs with Zyce & Solar Kid. In and around them, Jordan intuitively weaves Astrix's 'Sapana', 'DFRNT', courtesy of Nick Callaghan, Heatbeat's rewire of his own 'Droid', Thomas Datt's 'Psychonaut' and many more into the mix.??Flipping the trance polarity, and bringing the album its bracing tech-aspect is Damaged Recordings' master sergeant, Sam Jones. Working their way into the mix stream are Sam's own 'No Angel and 'Charlie Charlie', as well as his freshly unleashed 'Hijacker' collab with Jordan. Every bit as fast to the CDJs are 'Battlefield' from Alex di Stefano, Sneijder & Nick Callaghan co-op 'Collision Course', 'Mexican Rave' by Bryan Kearney, Liam Wilson's '166' and a half-dozen others besides. Jordan counters with Abstract Vision & Aimoon's new mix of 'Jet 2 Hell', an album-exclusive premiere of 'Coca' from Richard Durand and his own much-celebrated/smashed rework of the Ti?sto classic 'Suburban Train'.
Two discs, 33 tracks and 160 minutes of quality-assured, hard, fast and devoutly tough trance music, with three frisson DJs at the wheelhouse… Damaged Records: Red Alert – Back 2 Back Edition is the ultimate way to say sayonara to 2015 and meet 2016 head-on! It's out through all good digital retailers on December 18th!